Environmental and social risk management
Environmental and social risk
Environmental and social risk (E&S risk) is the potential for loss or harm, directly or indirectly, resulting from environmental or social impacts or concerns, including climate change related to BMO, our customers, suppliers or clients, and our impact on the environment and society. Environmental and social factors may give rise to the risk of both direct and indirect impacts over both the short and long term, including but not limited to:
Climate change
Pollution and waste
Energy, water and other resource usage
Biodiversity and land use
Human rights
Diversity, equity and inclusion
Labour standards
Community health, safety and security
Land acquisition and involuntary resettlement
Indigenous Peoples' rights
Cultural heritage

We may indirectly be exposed to financial loss or reputational harm if our customers, suppliers or clients are affected by E&S risk. Our approach to managing E&S risk is part of our Enterprise-wide Risk Management Framework (ERMF).
In 2022, the Bank introduced a new, board-approved Environmental & Social Risk Corporate Policy ("E&S Risk CP"). The E&S Risk CP provides the foundation for BMO to more fully integrate E&S risk considerations into and across our existing ERMF, as well as increase our ability to identify, assess, manage, monitor, and report on E&S risk. The E&S Risk CP further cements the importance the Bank places on the management of E&S Risk, including by: outlining the board's expectation regarding integration of E&S risk considerations across the ERMF and noting how E&S risk will be articulated in existing policy documents.
The Enterprise Risk and Portfolio Management and Sustainability teams work with the lines of business and Corporate Services to manage BMO's E&S risk and achieve our sustainability goals. This includes integrating E&S risk into our operational and business decision-making processes, including financing and lending activities, and procurement of goods and services. We regularly report to various management committees, forums and Board committees on key developments in sustainability and climate change.
Corporate Audit independently evaluates the quality and effectiveness of internal control, risk management and governance systems and processes within BMO using a dynamic, risk-based plan. Audit results are reported to management regularly. Each quarter the Chief Auditor reports results to the Audit and Conduct Review Committee together with key themes, trends and views of matters of high criticality to the bank.
Equator Principles reporting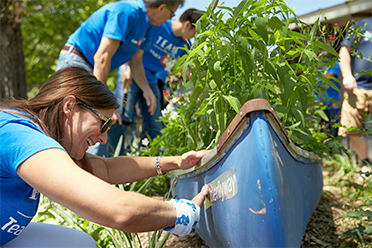 Operational sustainability
Carbon neutral since 2010, BMO is dedicated to finding innovative ways to minimize the environmental impacts of our operations.